After pandemic postponements, the Met Gala reclaimed its rightful place in the Spring calendar. This year, the museum celebrated part two of the Costume Institute's exhibition "In America " exploring the themes and history of American fashion. The dress code for the evening was Gilded Glamour which conjures images of excess, extravagance, off-with-her-head / let-them-eat-cake wealth. Booming prosperity. The super rich. Quite honestly, it fell a little short. Maybe the real theme is not to follow the theme?
If you want to see what the true theme embodies, The Metropolitan Museum of Art in New York opened its inaugural exhibition yesterday. Located in the American wing where you can marvel at rooms like Tom Ford's recreation of the battle of Versailles.  
Mark Twain coined the term the "Gilded Age" in the 19th century. By this, he meant that the period was glittering on the surface but corrupt underneath. The night, which really started around 4:45 pm with guests exiting the Mark Hotel into a swarm of paparazzi, ended close to 10pm and wasn't without some yawns. But like in life, there are no roses without thorns. 
See below for the Gilded Glamor highlights of the first Monday in May.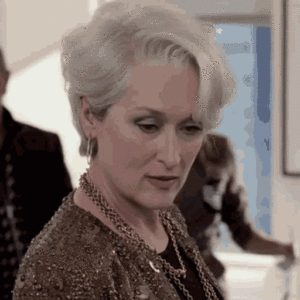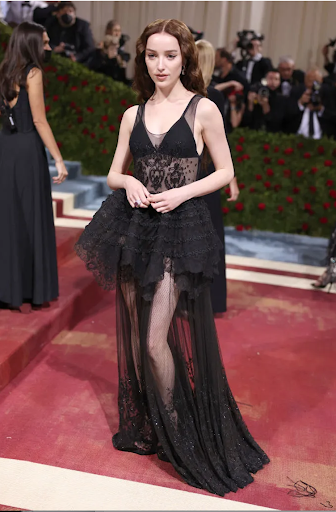 Actress Phoebe Dynevor, otherwise known as Lady Bridgerton stunned in Louis Vuitton early on in the evening. This fit her to perfection.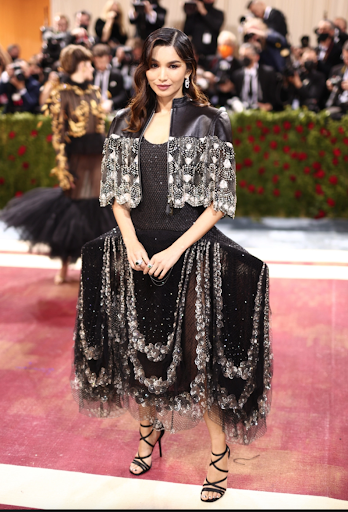 Gemma Chan followed suit in LV too with the most ornate details of the evening.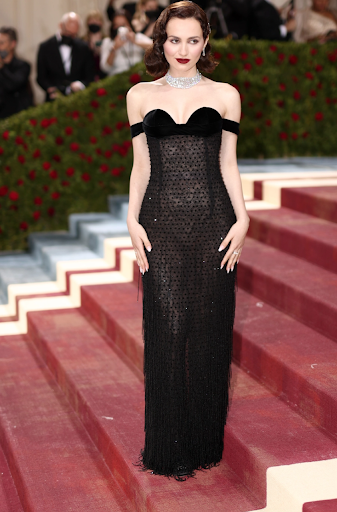 Miu Miu is the designer of choice for those 30 and under and Leslie Mann's daughter, Maude Apatow, seemed more 1920's flapper style than 1900's. Bold yet polished she was absolutely lovely in the off the shoulder number.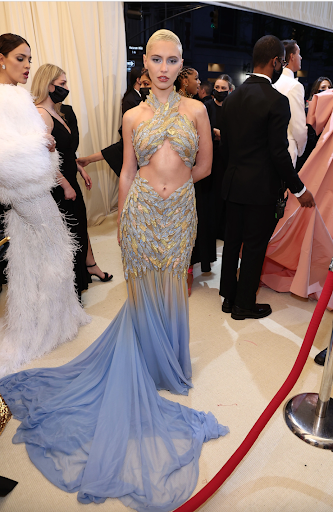 Another fun fact I learned last night was, these abs belong to the daughter of Jude Law and Sadie Frost. Iris Law looked sensational in Moschino.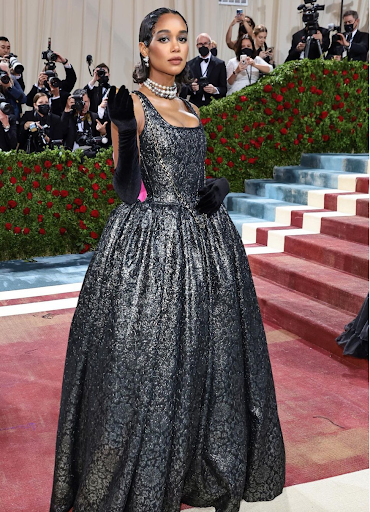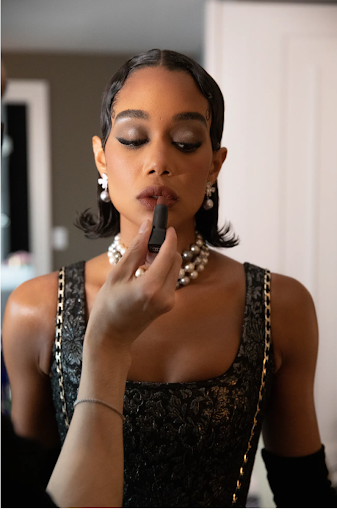 Laura Harrier. She just doesn't miss. Laura loves working with stylist Danielle Goldberg and for this Met, the pair went with – H&M, in collaboration with Victor Glemaud. The cinched waist with corset black and silver gown was the epitome of the Gilded Age.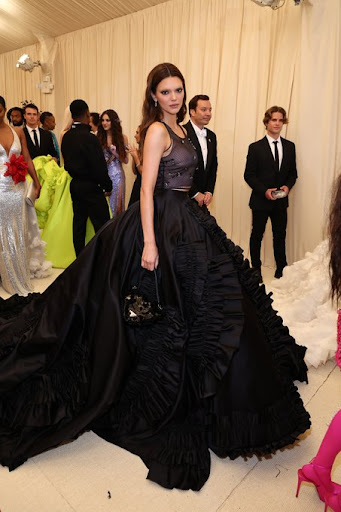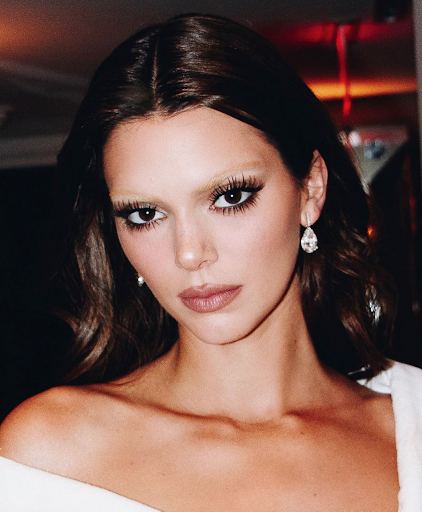 There were many dark, somber looks like Sarah Jessica Parker in Christopher John Rogers flannel ball gown. Kendall Jenner entered the dark side as well with this Prada ensemble. She even bleached her eyebrows for the event.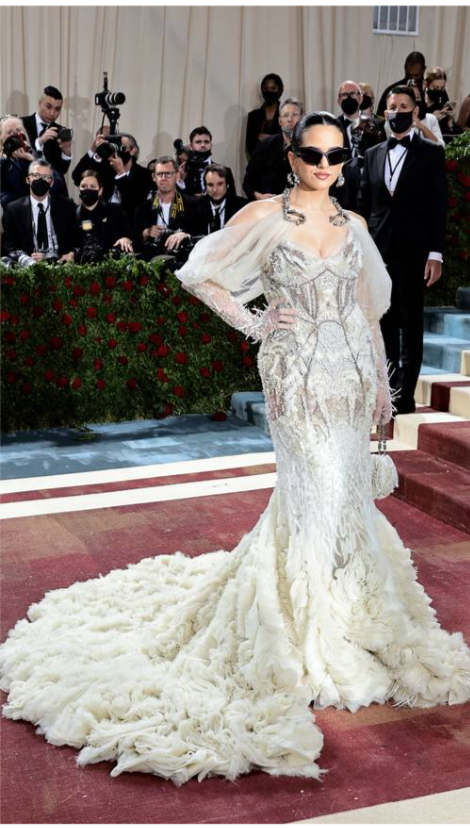 Rosalia served in a Givenchy gown styled with Y2K sunglasses.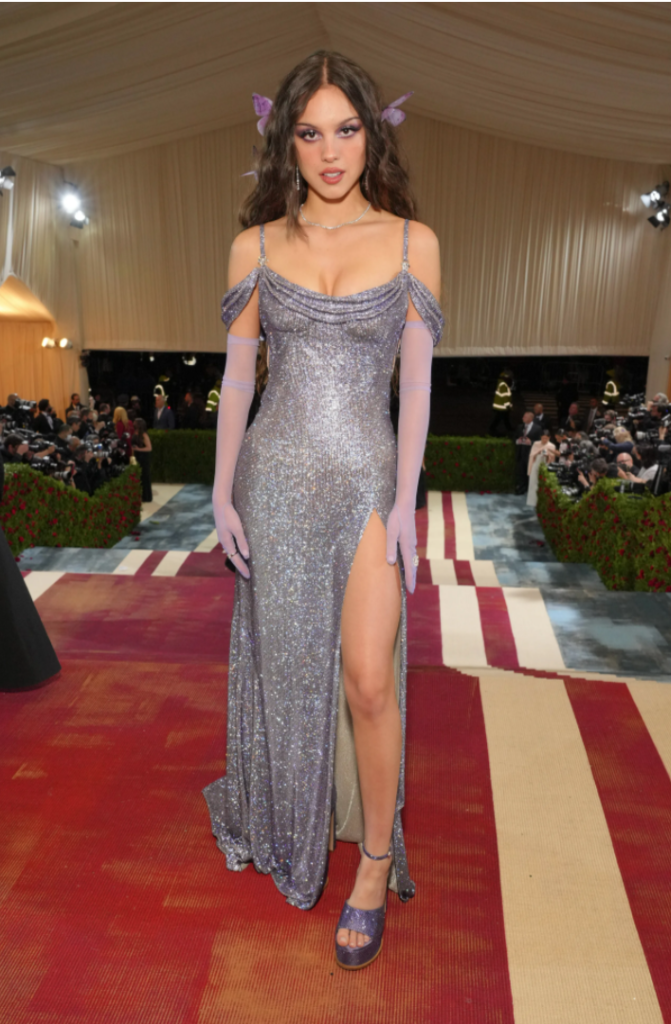 Olivia Rodrigo attended her first Met in Versace. Perfectly accessorized with butterfly clips and mesh gloves, I loved her modern rendition of the theme.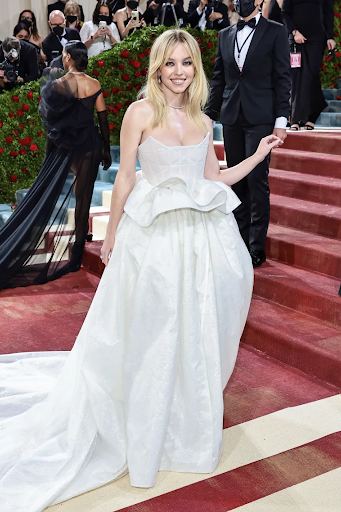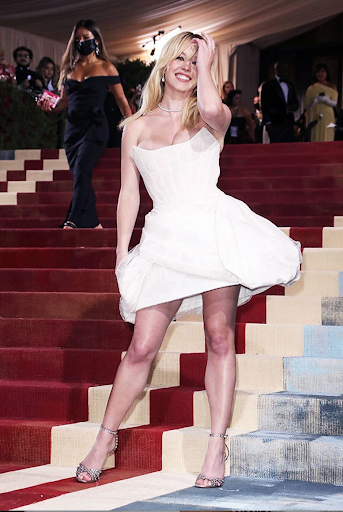 Sydney Sweeney was tweeting that she was stuck in traffic and it was so worth the wait. Tory Burch dressed the Euphoria actress in a cream gown that turned into a mini dress when she reached the top of the staircase. She looked so happy to be there.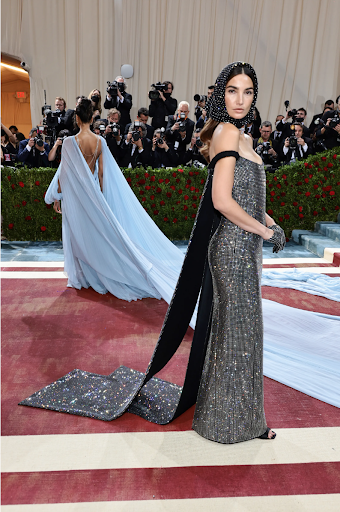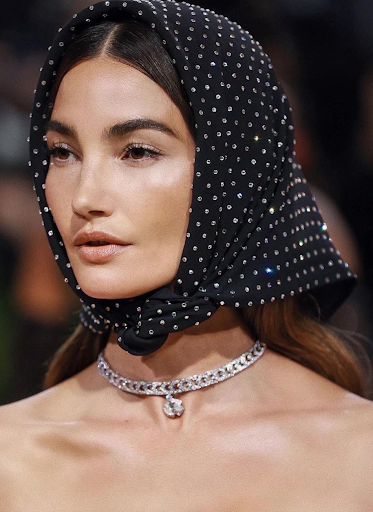 I truly admire Goldberg's attention to detail. Her last client of the evening was the stunning Lily Aldrige in this custom Khaite dress embellished with 117,000 crystals. After 180 hours of craftsmanship, this dress was fit for a red carpet.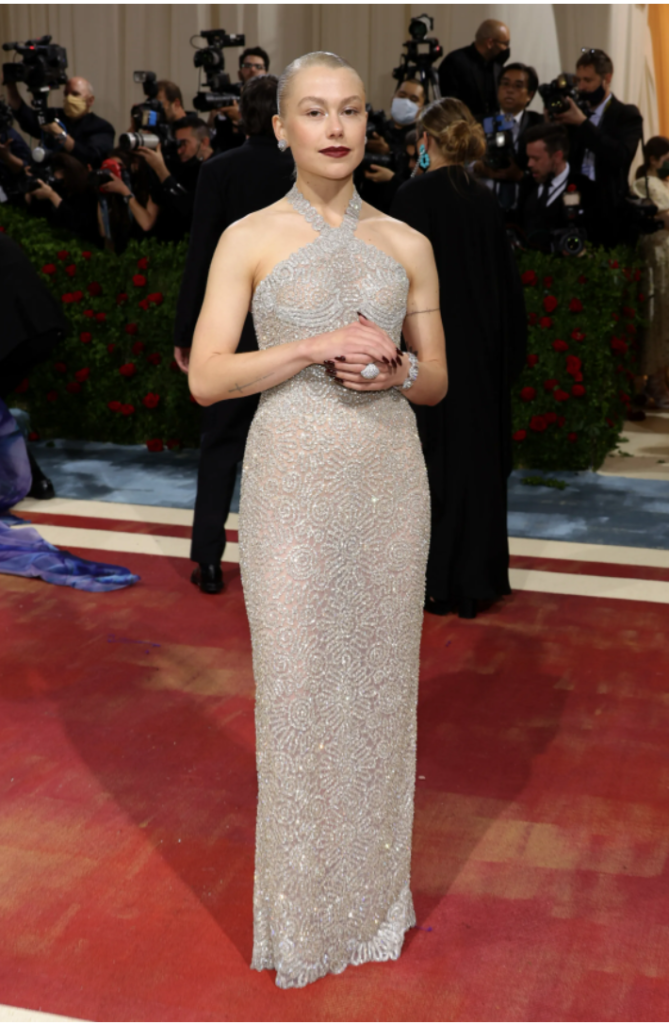 Maybe it was the imminent bad spring weather in NY but there were many slicked back hairstyles last night. Phoebe Bridgers was one of the first to walk the carpet in a ballerina bun with a dark burgundy lip and ethereal makeup.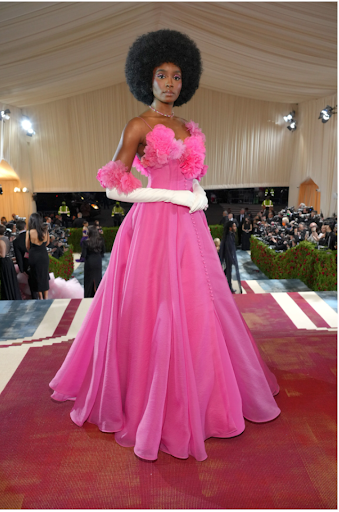 Prabal Gurung who is said to have inspired the America theme after his Spring/Summer 2020 collection in which he sent models down the runway wearing sashes that read "Who gets to be American?" He referred to the collection as "an ode to the true American dream." Kiki Layne wore Prabal's beautiful pink gown complete with elbow length white gloves.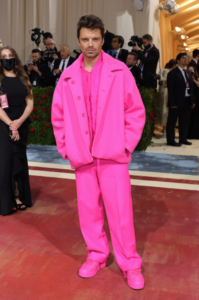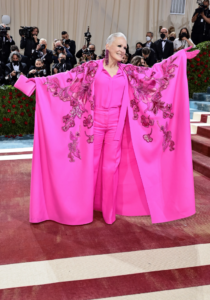 Spotted: Carter Baizen returns from Ibiza for Serena? This pop of pink was also seen by Sebastian Stan and Glenn Close both in Valentino.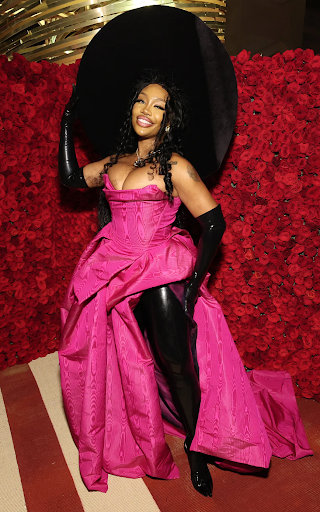 But SZA made a statement in her oversized hat, patent leather accessories and Vivienne Westwood gown. I was surprised to not have seen more of Westwoods corset designs walk the carpet.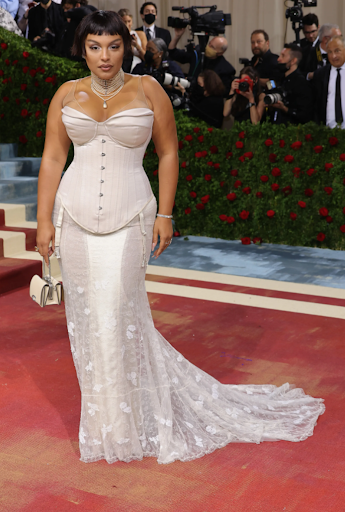 I loved Paloma Elesser in custom Coach. The corset and pearl chokers were the starts of the show.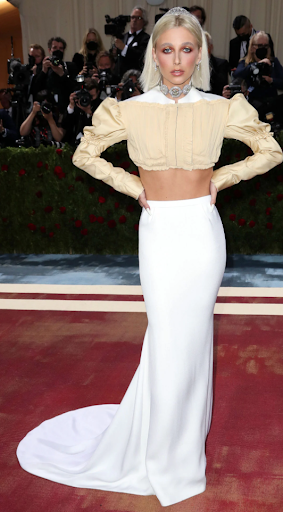 Emma Chamberlain debuted her platinum blonde bob last night. Sadly, this look gave me "Amazon Fashion Finds under 50$".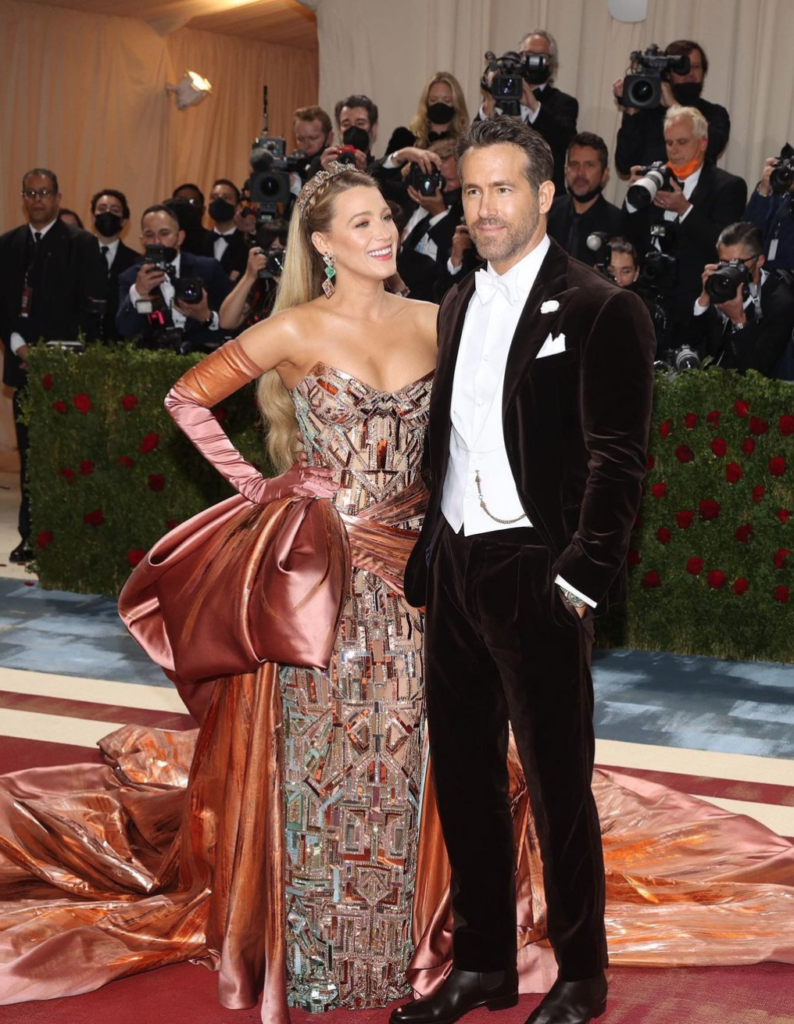 Co-chair Blake Lively looked beautiful. When has she looked anything less than sensational? Her custom Versace was inspired by New York – from Grand Central station to the Empire state. I found it to be a little too shiny for her but a beautiful story nonetheless.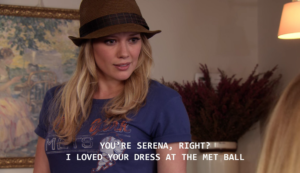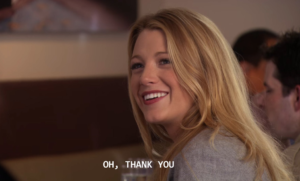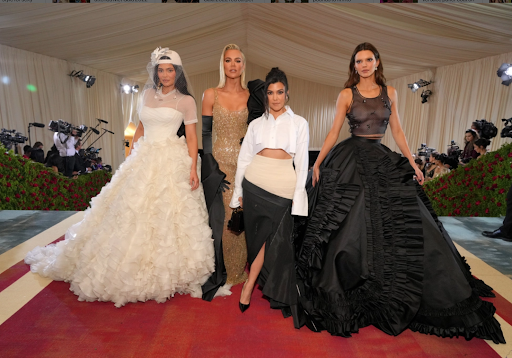 I thought Khloé looked absolutely beautiful for her first Met. However someone on Twitter said "She wears that to Nobu on a Tuesday" and I can't argue with that. 
Her older sister Kourtney Kardashian, wore a sculptural Thom Browne styled by favorite, Dani Michelle.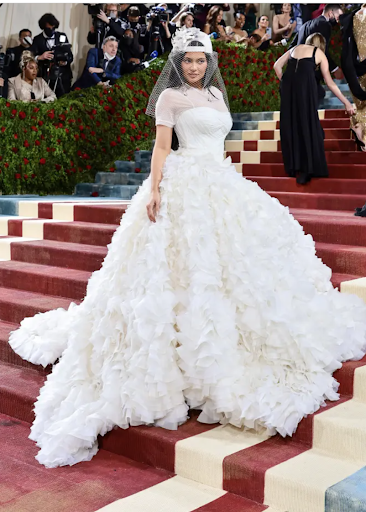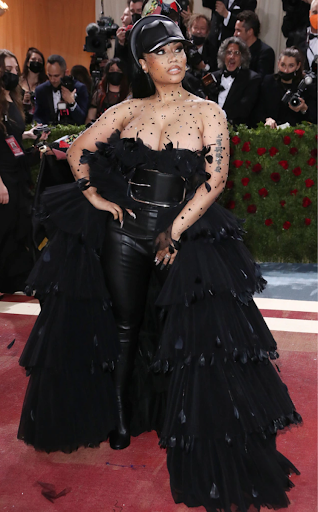 I did not understand the baseball caps. Kylie Jenner passes with the Off-White frock thanks to the late Virgl Abloh.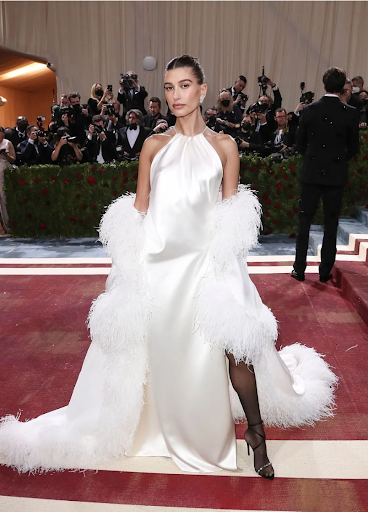 A few decades off but nonetheless, Hailey Bieber honored Jerry Hall in Saint Laurent white feathers. She is just always the moment no matter the theme.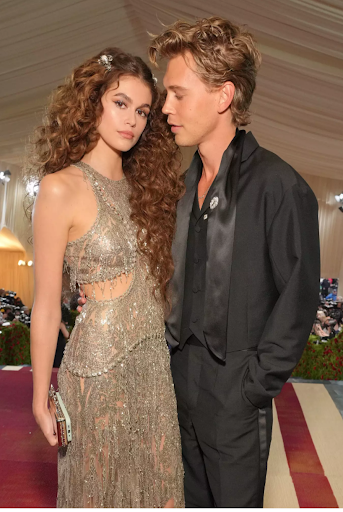 Ugh. The couple who stole my heart was Kaia Gerber & Austin Butler. If anyone even cares what they're wearing, she's in Alexander McQueen and he is in Prada.
Kim Kardashian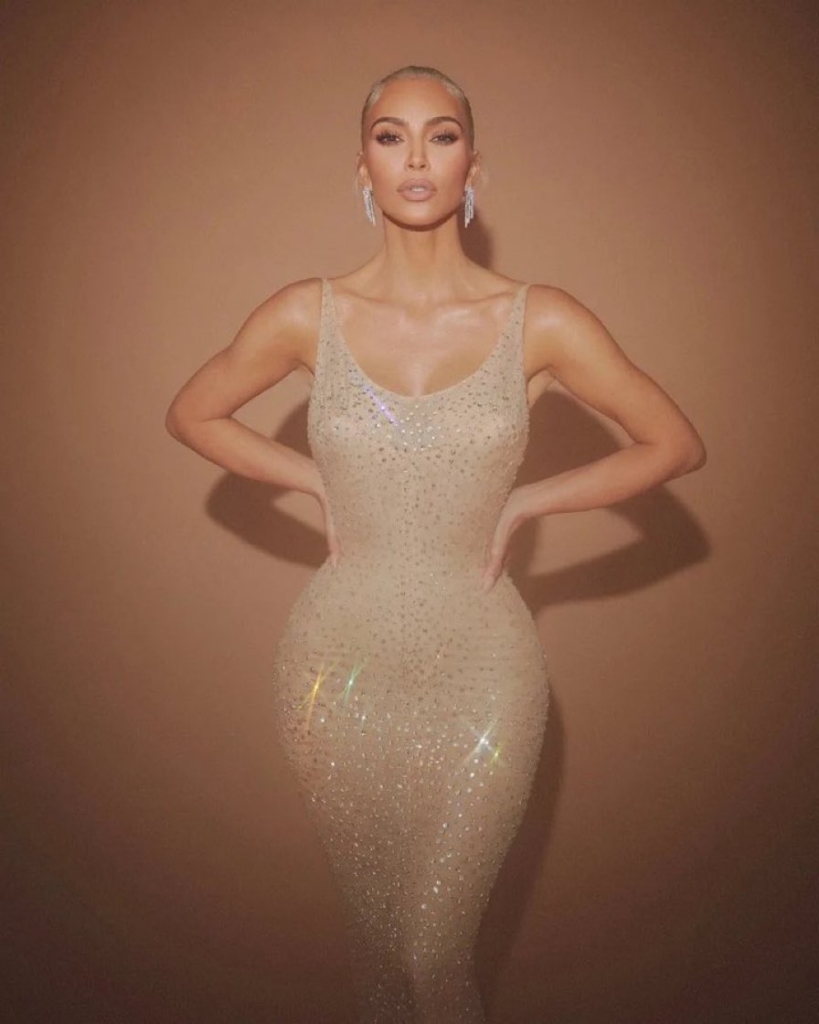 Our culture has dimmed the word iconic but I believe this is a moment where that's all we can use to describe it. Where the present meets the past for a brief moment of iconography. Kim proved again that she is a mirror simply reflecting the cultural zeitgeist of our generation. A Marilyn Montore of our time.