The first skincare brand we decided to sell on The GLW Shop is January Labs. Katherine heard about this line and ordered a few items many months back and instantly knew this was an excellent skincare brand and very effective. January Labs line is highly efficacious, sustainable products that people can rely on. The entire line is crafted without sulfates, parabens, fragrances, or other harmful additives. It's simple, straightforward, and light, yet extremely hardworking. And—with an emphasis on eco-friendly, recyclable packaging—it's something you can feel good about using. 
We reached out to January, the founder of January Labs with the intent to sell her products and be the first retailer in Canada. We had a great video meeting and really connected on so many topics other than just her products and skincare. Our core values really align, and we are so excited to bring this line to you guys. 
What makes this line so special is the combination of ingredients in each product. They mesh so well together. The other great aspect is how simple and straightforward the line is and how well it works for every skin type and skin concern. 
Here are the products we will be carrying! 
PURE & GENTLE CLEANSING GEL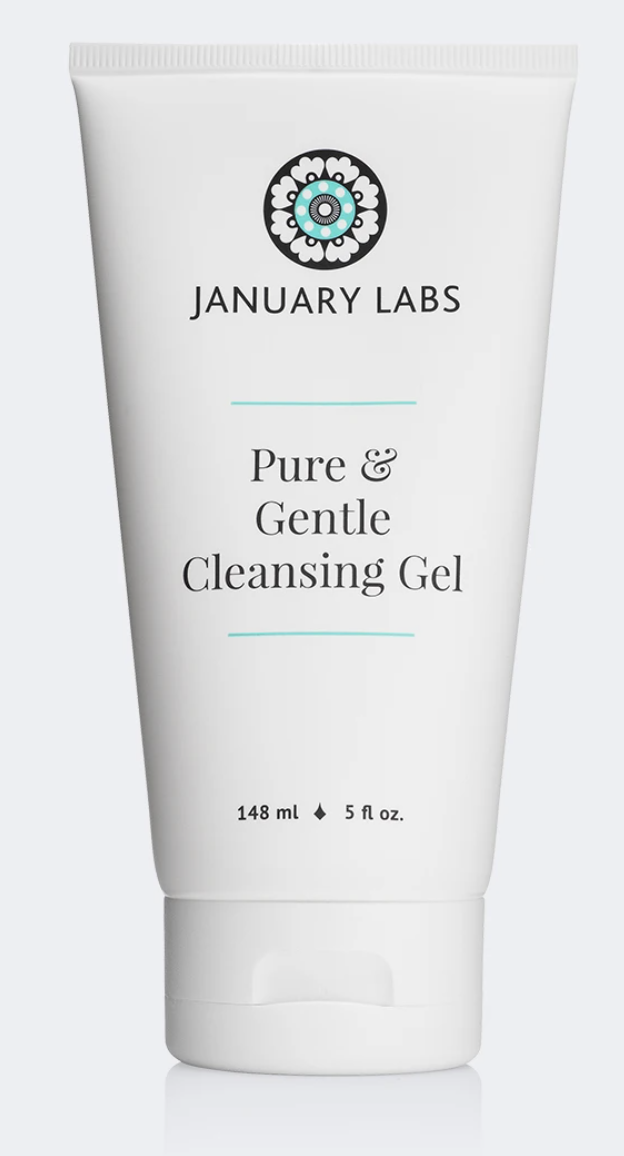 A gentle, non-drying face wash that dissolves dirt and makeup for exceptionally smooth, clean skin. This is a unique product because it comes out like a gel but then turns creamy. It is made with soothing botanicals for all skin types and can be used as often as needed without drying or stripping skin. There will be all ingredient information provided on The GLW Shop. 
HOW KG USES THIS: In the morning this is such a nice gentle cleanser to start the day with. At night after balm or oil cleansing to prep the skin for serums! 
RESTORATIVE TONIC MIST 

This is one of our favorites from the line. This mist truly gives the skin that all day glow. It helps to refresh and condition the skin, maintain hydration and prevent moisture loss and minimize breakouts. Perfect to set makeup and reactivate power ingredients in moisturizers and serums. Used frequently throughout the day, it helps to absorb oil and cancel out shine while giving a healthy glow. The Restorative Tonic Mist is the best defense against environmental elements, bacteria and allergens. It is designed to boost, rehydrate, balance and protect all skin types. This product is excellent for "maskne" it contains witch hazel, which kills bacteria and glycerin, which locks in hydration, not allowing the skin to get dry and lead to breakouts. 
HOW KG USES THIS: Before serums to prep the skin and help the serums penetrate deeper Throughout the day to refresh the skin, plump it up and rehydrate. After makeup application to set and glow. 
TRIPLE ACTIVE RECLAIMING SERUM

This nightly retinol serum that combines Retistar® retinol with the powerful benefits of Niacinamide and Vitamin C in a state-of-the-art stabilized formula. Specially formulated to address signs of aging such as elasticity, fine lines, skin tone and texture, as well as help manage persistent skin irritations to reveal healthy, glowing skin. This soothing retinol formulation is specifically designed for sensitive skin and those who have had difficulty tolerating the typical drying effects of retinol products in the past. 
This product is special because not only does it contain retinol, niacinamide and vitamin c, which is a powerful cocktail for removing dark spots and pigmentation it also contains lactic acid which gently sloughs away those dead skin cells and will brighten skin faster! 
HOW KG USES THIS: As directed at night after cleansing, toning and misting! Follow up with a moisturizer afterwards and always use SPF during the day! 
DAILY BRIGHTENING TONIC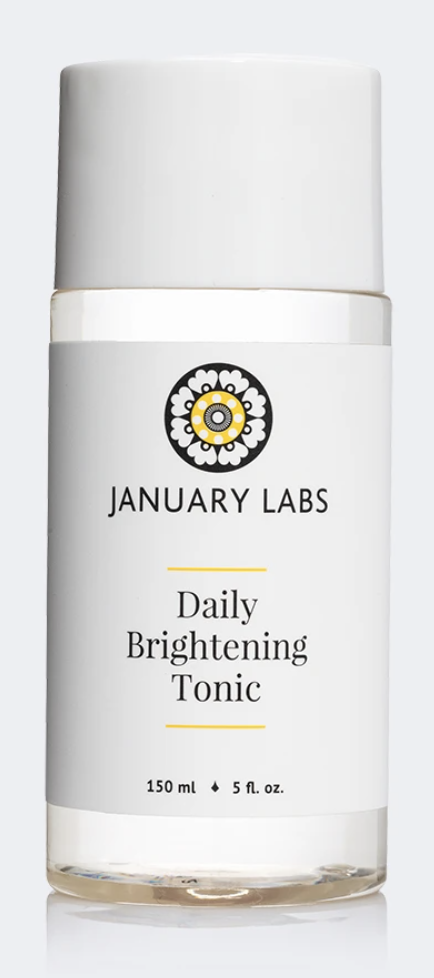 We love this product! This is an all-in-one toning treatment. It exfoliates and hydrates your skin while stimulating collagen production and targeting pigmentation issues. This gentle toner is specially formulated to strengthen the skin and regulate proper pH balance to reveal a smooth, healthy glow.
Our Daily Brightening Tonic helps to build and protect your skin barrier, enables cell turnover and rejuvenation and prepares your skin for the absorption of your skincare products. 
HOW KG USES THIS: In the morning, after cleansing apply the tonic to a cotton pad and gently wipe or press over skin. Let skin dry and then use the other side of the cotton pad and apply over skin again for maximum use of the product. Follow up with vitamin c serum and moisturizer. 
REVITALIZING DAY CREAM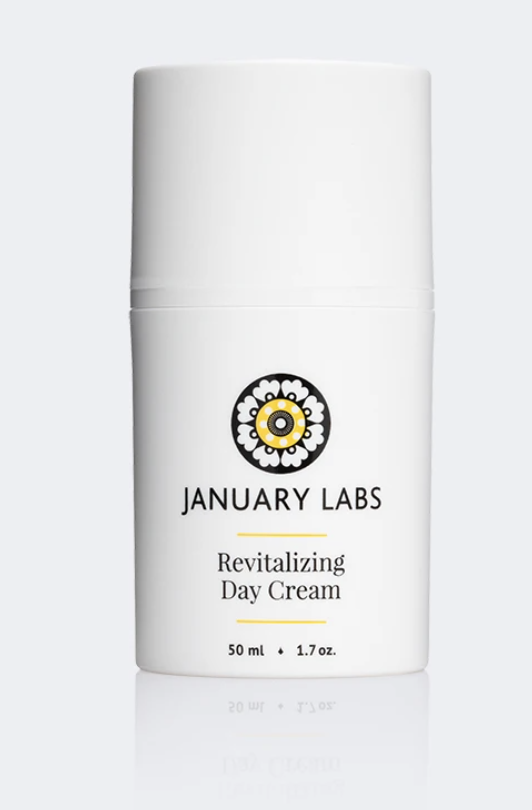 We don't like to pick favorites, but this is our favorite item from the line. A daily hydrating moisturizer formulated to strengthen the skin barrier, promote skin rejuvenation, improve elasticity, firm and plump the skin and minimize fine lines. This powerful moisturizing cream is a rich yet lightweight botanical formula packed with peptides and antioxidants to help protect your skin and reduce discoloration and the occurrence of skin reactions. The texture of this cream is so unique because it's very lightweight and almost gel-like yet applies and feels like a thick luxurious cream. This is an excellent product to help combat pigmentation and increase brightness. 
HOW KG USES THIS: In the morning after cleansing, tonic, serum! Before SPF. 
RETEXTURIZING NIGHT CREAM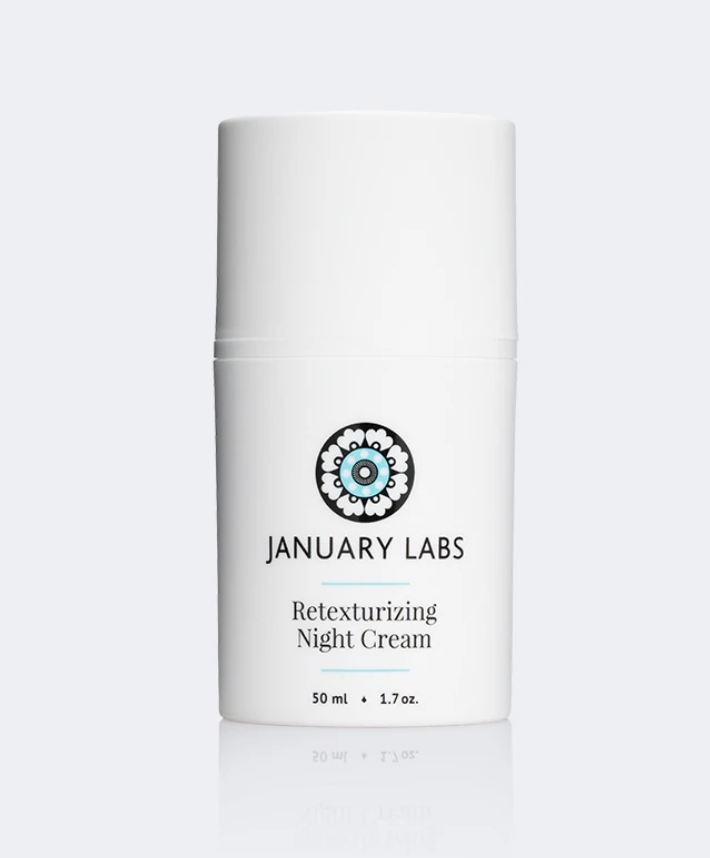 If your skin gets congested easily, blackheads often and are looking to shrink your pores this the moisturizer for you. A rich, intensely hydrating night cream that gently exfoliates and protects your skin while you sleep so you can wake up to smoother, softer, more youthful skin every day. Transform your skin with the highest lactic acid content you can buy without a prescription. Our night cream formulation encourages skin regeneration and rejuvenation in a lush, medicinal formulation. This "work-horse" product is also safe for problem and sensitive skin types and for treating skin irritations such as acne.
HOW KG USES THIS: At night, after cleansing, toning and serums this is the last step before bed! 
Feature image via January Labs