Last month we posted a Brand Spotlight: Biophora.After that both Emma and Gio had followed a protocol for 30 days. They each discussed with Tracy, the senior educator at Biophora, their skin concerns and what they wanted to improve.
Gio's Feedback
As a teenager, I suffered from acne. I was never really into skincare because I just never knew what I needed to help my skin. Once my acne started clearing up (I would say 17-18 years old),  I wanted to make sure that it stayed fresh and healthy so I started looking into skincare routines that would work for my skin. I am now 29 years YOUNG, and have relatively good skin (no acne scars at all, very little blackheads). I still have the occasional breakout but besides that, my skin is clear. I know I have acne prone, combination skin. There are some days that my skin feels super oily on my cheeks and forehead, and others where it's totally balanced. I've tried very hard to narrow down a solid skincare routine in the last few months that will keep my skin always feeling 100. 
I had my call with Tracy from Biophora and we spoke all about my skin concerns and areas we felt needed improvement. She sent me a solid kit with everything she recommended I use to get that bomb skin GLW! I want to highlight the Enzyme Exfoliator and the Multivitamin Freeze Mask! 
The Enzym Exfoliator is a gentle but powerful blend of temperature-stable pineapple and papaya fruit enzymes and mineral beads to dissolve dead skin cells. Reduces appearance of oiliness, pore size, dullness and blotchiness for a smooth, glowing complexion.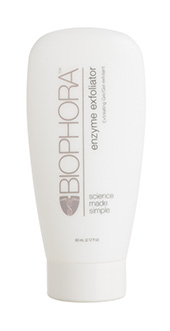 The Multivitaim Freeze Mask is a Revitalizing clay-based mask with Collagen, Elastin and Vitamins A, E, C, D3, K and B Complex soothes, hydrates, clarifies and nourishes while minimizing the look of pores, blotchiness and redness for all skin types.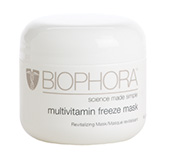 These masks were like no other. I've tried a few other masks from other brands before and although some were good, none compare to these from Biophora.  I used them together (as suggested) and they felt amazing on the skin. Once used, my skin felt tight and glowy. I've been using it once a week and I can genuinely say, I love it. 10/10 would recommend it.  
Emma's Feedback
I never really had many skin concerns growing up. As a teen I would get pimples here and there (especially hormonal ones) but I'm lucky to say that I never suffered from anything deep like cystic acne, rosacea, or hyper pigmentation. I mainly had sensitive skin. Anything with too much perfume would irritate my skin and cause redness. I would even stay away from face paint as that would both my skin.
As I entered my adult years (19 to be specific) I started taking birth control and that really kept my skin clear. I would get hormonal pimples every month. We're talking 2 or 3 nice big ones on my chin and sometimes one on my nose but all in all, it wasn't bad. I think the fact that I was a competitive swimmer and in chlorine water everyday also helped with my skin.
Now at the young age of 33 my skin concerns are pretty much still the same. I get a few hormonal pimples and some blackheads on my nose and chin, but that's about it. After speaking with Tracy from Biophora, she advised me to follow the normal aging skin protocol. The biggest thing for me was I didn't want to spend 30 minutes washing my face and then layering on all these products. Not my style. I want a protocol that can be completed in 5-7 minutes. This is one of the beautiful things about Biophora, their skincare routines are completed in just that, 5-7 minutes.
All in all the protocol worked well. I visibly saw a difference with my blackheads. My chin and nose area are clearer. I have to highlight the Advanced Protection SPF 45. I absolutely loved it. This SPF has UVA and UVB protection. It has a lightweight texture that doesn't leave any residue. Makes it easy to reapply during the day.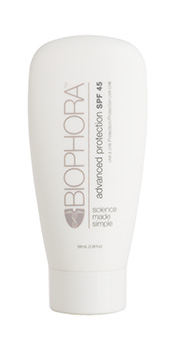 Another one of the products I was using that deserves it's own moment, spotless. The targeted oil-control lotion. This product is applied directly to a pimple and dries it right out. Perfect for those annoying hormonal pimples I've been getting my whole life.
Need to step up your skincare routine? Medical grade skincare like Biophora can help you achieve that.
For more information or to schedule an appointment for your skin assessment, please reach out to Tracy; Tracy@biophora.com
https://www.instagram.com/biophora/
———————
Sponsored Post