With the topic being handbags, I had to be the one to talk about them. I am a handbag feen. While Katherine has a nice collection herself, these bags are very much my style and I couldn't wait to share.
Not only are the styles beautiful, they are also eco-friendly and sustainable. Just like the outerwear Noize makes. Investing in these kinds of pieces will not only look good while you wear them but you'll be doing good for the plant and animals too. These are purchases you can be proud of making and proud of showing off.
Now that Noize has branched out into the handbag sector, you can show off your ethical purchases at any point in the year. These bags are well made, on trend and are beautiful.
Eloise
This beauty crossbody comes in two colours; black snakeskin and lime snakeskin. Both with a fun bright pink colour-block lining. Perfect for day to night use. I will definitely be pairing this with jeans (or jean shorts! It's finally warm enough) and a tee for a casual look or can dress it up with a mini for an edgier night out look. I'm loving both the black and lime versions. Why choose either or? Both are a must have.
Luna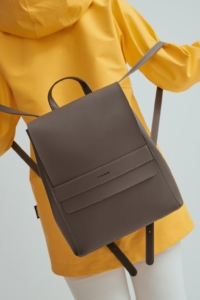 The perfect backpack. It fits my laptop easily with space to allow for my wallet, sunglasses, lip glosses (yes glosses, I always carry with me at least 3) This is also perfect for a mom who needs to throw in some treats for their kiddies…who am I kidding, perfect for me to throw in some treats for myself! The adjustable straps make it easy to have it on a comfortable level on your back.
Florence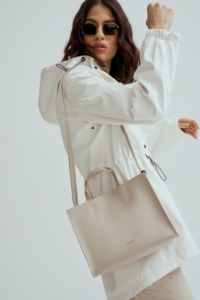 I said it before, this is the perfect size tote. Top handles to allow for carrying as well as a longer strap to wear on your shoulder. I love how it's open but has a removable inside pouch to use. I like to put my smaller loose items in the pouch so they're easy to find and I'm not rummaging through my bag to get them. This bag comes in a beautiful stone colour. Almost pebble like which acts as a neutral to match back any outfit.
These are great styles that carry well in any season. You will find me using these bags in rotation.
What would be your go-to style? Leave a comment below!
Make sure to use KGMTL20 at checkout for 20% off your order.
SHOP THE POST