When we think of basil, most of us picture the leaf; but recently we've been hearing a lot more about the seeds of the plant as well. We couldn't help but notice this superfood since it's been all over the health and wellness world lately, so we decided to do our own research and find out what the hype was all about. 
Even though the popularity of basil seeds has increased in recent years, it's actually been utilized for centuries in Chinese and Ayurvedic medicine for it's adaptogenic properties. While more research still needs to be done on the extent of these seeds' capabilities, we do know that they possess extraordinary benefits that extend even further than our ancestors believed.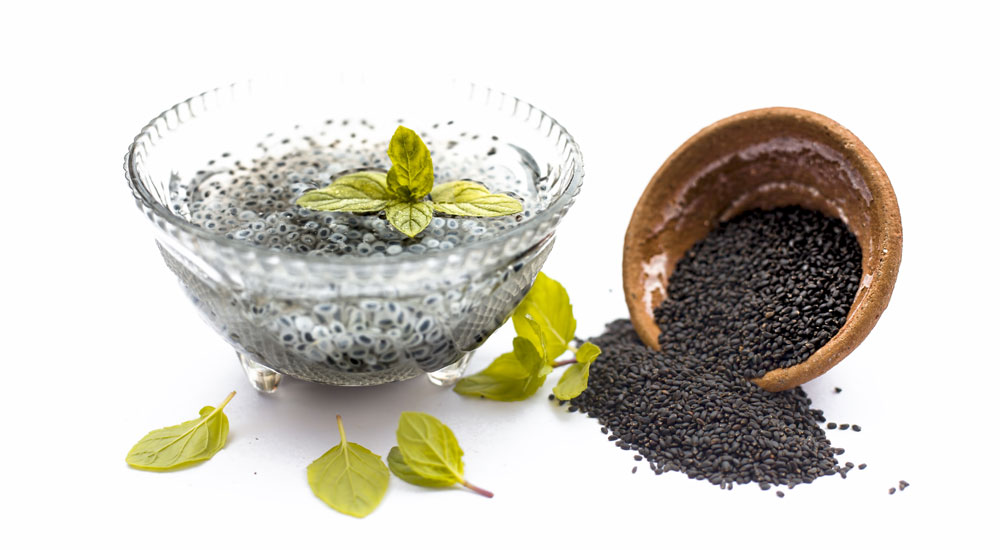 Benefits of Basil Seeds
High in fiber, basil seeds can help lower blood sugar, decrees cholesterol levels and curb your appetite. Well known as a natural weight loss tool, the pectin in basil seeds helps make you feel full faster and longer. The fiber content is also great for digestion by helping avoid constipation and to generate regular bowel movements. 
They are also prebiotics which are vital to maintaining gut. The gut is closely linked to the immune system and our overall health, so basil seeds are a great choice when it comes to the health of the digestive system.  
Rich in plant compounds, basil seeds are filled with flavonoids and other polyphenols which means that they have high levels of antioxidants. This is significant since antioxidants help protect our cells against free radicals which are a leading cause for cancer and other diseases. These seeds also possess anti-inflammatory properties which is also associated with a decreased risk of diseases. 
As a great source of vitamins and minerals, basil seeds have increased levels of vitamin-K, calcium, potassium, magnesium and iron, all of which immensely impact all aspects of our health and are vital to our existence. 
We also can't forget basil seeds' role in skin and hair health. Known for aiding skin ailments like eczema or psoriasis, the seeds are extremely beneficial for the hair and skin when ingested but can also be crushed and mixed with coconut oil to be used as a topical treatment.  
There are so many benefits to adding basil seeds to your diet that we could go on and on. That being said, consuming too many basil seeds can have adverse side effects including bloating, diarrhea and stomach pains. It can also potentially interact with some blood thinning medications due to the high levels of vitamin K so it's best not to consume more than 1 tablespoon a day of this powerful superfood. 
Basil seeds are often compared to chia seeds and in many ways they are very similar. For example, they look alike and they have similar nutrient dense profiles. Unlike chia seeds, basil seeds have a bit of taste and they have a higher fiber content. Chia seeds on the other hand have more omega 3's,though basil seeds still contain their fair share. These two seeds can often be used interchangeably in recipes however basil seeds shouldn't be eaten dry, so make sure to only substitute them in recipes that include liquid like pudding, smoothies, salad dressings or even pancake batter.
You can find basil seeds online or at many local health food stores. Our go-to brand is Zen Basil and is made from 100% natural quality organic ingredients. Like with anything you spend money on or put into your body, it's extremely important that you do your research and make sure you are buying a reputable and trustworthy product to ensure you are getting the most out of your basil seeds. 
SHOP THE POST
Basil Seeds
Feature image via healthshots.com