If you've ever eaten Korean food than you've probably tried kimchi and if you haven't, you're really missing out. This tasty Korean staple has been consumed and used in Traditional Chinese Medicine for thousands of years and has gained popularity worldwide due to its superfood benefits. 
Packed with nutrients, kimchi contains significant levels of iron, folate, and vitamins B6 and K in addition to many others; however, it's probably most known for being a probiotic food. 
Benefits of Kimchi 
Produces Probiotics –Giving the body probiotics is essential since they help regulate gut health; this is critical since an unhealthy gut can lead to many serious illnesses. Probiotic lactic acid bacteria (LAB) are formed through kimchi's fermentation process. Even though other types of probiotics are also produced, LAB is noteworthy because it provides the body with many significant health benefits.   
Increases Immunity –  The gut has a major impact on immunity so it's no wonder with kimchi's strong presence of probiotics that it would have immunity boosting effects. In addition, multiple ingredients found in kimchi such as garlic, cabbage and cayenne are also known to naturally strengthen the immune system. 
High in Antioxidants – Packed with antioxidants and anti-inflammatory compounds, kimchi helps fight free radicals and oxidative stress which combats the aging process and helps to prevent chronic diseases such as cancer.  
Loaded with Fiber – Fiber is important for heart health and for good digestion. High fiber foods like kimchi are linked to lower blood pressure and reduced cholesterol levels.
Aids with Weight Management – A great choice for weight management, kimchi is low in calories, can help curb your appetite and improves overall metabolic function.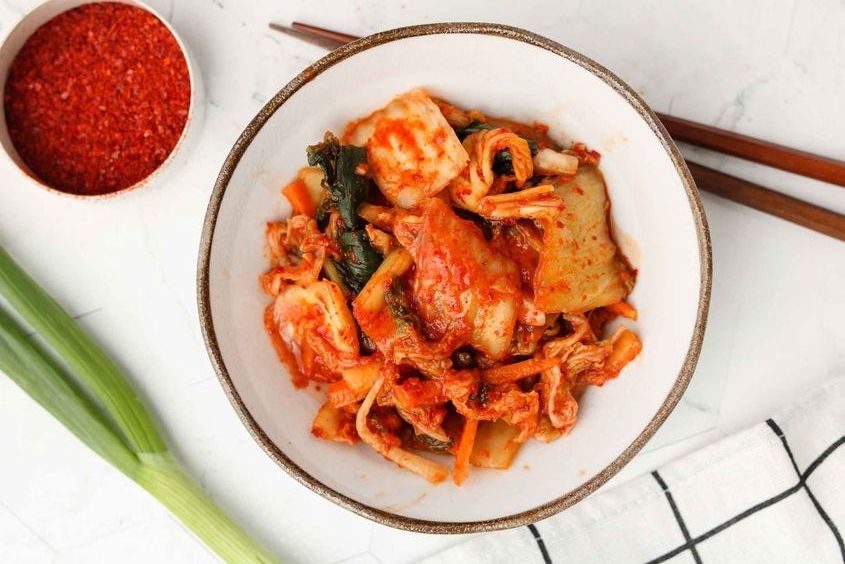 Kimchi is the perfect combination of sour and spicy and a great addition to any dish. We love adding to it our sandwiches, bowls and even our burgers because there are no limits when it comes to this delicious side. That being said, it's important to eat kimchi In moderation otherwise it can potentially cause bloating, gas or abdominal discomfort.  
We love buying our kimchi from local vendors who specialize in fermented foods or from Korean grocery stores, though it can easily be made at home. Although recipes differ, most contain napa cabbage, cucumber, scallions and radishes which are fermented together in a jar filled with brine and seasonings for anywhere from several days to months. As the fermentation process takes place, the flavours and health benefits increase resulting in the perfect dish. 
Feature image via Pinterest