I frequent Miami a lot. Generally, between 4-6 times a year and it's been that way my whole life so I am pretty well versed on what is a must when it comes to vacationing there. Miami is a special city because it is a city but it's also a beach, you really get the best of both worlds. 
Miami isn't one of those places that you "sight see" or maybe some do, but for me it's really about the hotels, restaurants, workouts and shops. Below I will share my go to spots that are a "must do" if you're visiting Miami. There are more, great places to go but these are the ones we love most! 
SHOPPING
Sunset Harbor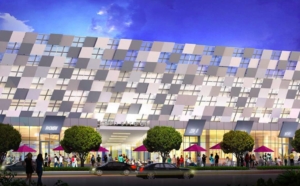 Is an area in Miami that is very "niche" most of the best workouts, juices, coffee shops are in this small area. There are also a few great little shops but the one that really needs a callout is. 
Gee Beauty: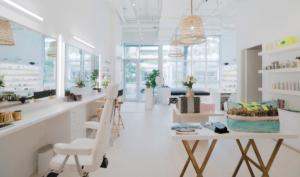 My actual favorite shop ever. Filled with the best of the best in skincare and haircare. They also have a curated selection of gift items, accessories and even clothing. The entire vibe and décor is also simply beautiful. The sister trio and mom that own it are even sweeter!
Design District: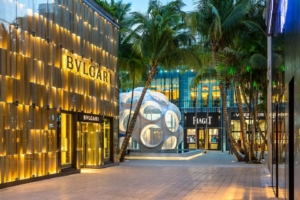 Is an experience. All the high-end designer shops are there, art galleries, furniture stores. Cute restaurants and there is just and all around vibe. There is art installations everywhere! Tons of Instagram photo ops and a great place to spend the day walking around. 
Bal Harbor Shops: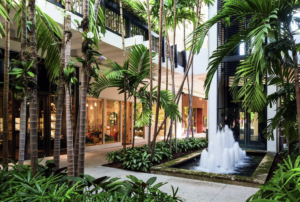 This is the "OG" Miami shopping destination. First of all it is the most beautifully designed outdoor mall. Most of the designer shops are located here as well as some of Miami's most famous restaurants. Bal Harbor shops have tons of different stores to browse but it also has Saks Fifth Avenue and Neiman Marcus. It's also very fun to people watch and have a coffee here. We go numerous times during our trips and have so many great memories. 
The Webster: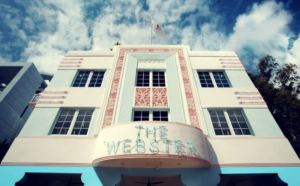 This store is iconic and just cool! The original location in the heart of South Beach is classic Miami, super curated clothing and accessory selection. All the celebrities shop here. They also have a location in Bal Harbor shops! 
Lincoln Road: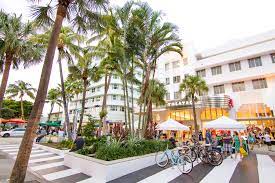 We don't love Lincoln Road but it's home to many of the brands we all know and love. Stores like Ulta, All Saints, Foot Locker, Apple to name a few. There are tons of restaurants and coffee shops. This area is more touristy but worth a walk around. There is a very cool store called "Alchemist" located in a parking lot (google it) that's also worth checking out. 
BEAUTY
Sobe Tan: The best spray tan in Miami! I have been going to Fabiola for almost 10 years. She has tanned every major celebrity who either visits or lives in Miami. 
IGK Salon: yes, like the brand sold at Sephora. IGK has a salon in the Design District and a ton of amazing stylists. I always make time to get my haircut with Leo, one of the founders. The salon has a cool vibe. 
Gee Beauty: Has tons of great facial treatments and makeup, eyebrows. It's a one stop shop for all things beautifying. 
WORKOUT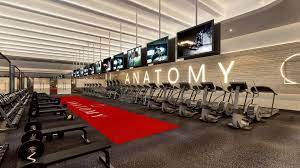 Is a cool gym, they do a lot of outdoor classes and have a few locations. You can either go there to workout yourself or hire a trainer or do one of their classes.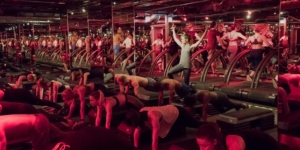 My absolute favorite Barry's Bootcamp ever! The instructors are amazing, great music, insane workout and good vibe! They also make good shakes. 
Green Monkey: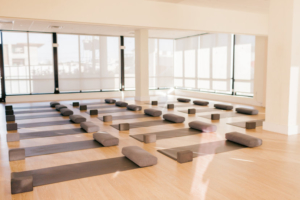 I have only been here once but this is a great Yoga studio that is loved by many. 
JetSet Pilates: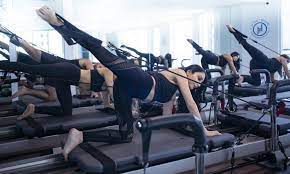 This is not your classical pilates studio, JetSet uses magformers and the classes are challenging to say the least. 
Flywheel: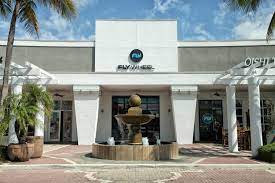 I like FlyWheel on the days I need to get a sweat in but don't want to go too crazy. You can make it as hard as you want but it's less choreography and more classic spinning. 
Soul Cycle: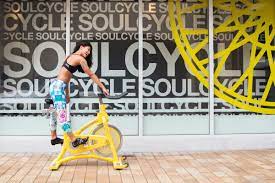 This requires a little more effort and experience because there is lots of choreography. However, if spinning is your thing I have had many great classes here! I will mention that the reception staff aren't the nicest. 
RESTAURANTS
Miami has A LOT of amazing restaurants and I am only scratching the surface but I am sharing the ones we almost always go to! I have also broken it down by meal types. 
Breakfast & Lunch:
Pura Vida: Smoothies, bowls, juices, salads, wraps, sandwiches. There are so many delicious, healthy options. You can pick up, eat there or order (postmates). 
Delicious & Raw: My fave green juice and Matcha latté in Miami. They also have a ton of other healthy meal options for breakfast and lunch. 
Under the Mango Tree: Fruits, smoothies,bowls and juices! 
Dreamer: This place is a little overrated if you ask me but there are some cute photo ops and great juices and smoothies. 
Hillstone: Located in Bal Harbor shops, this is a typical American restaurant. We like coming here for lunch, I love their salads and grilled artichokes. 
Juice & Java: This is located in Sunny Isles and is always packed, they have a massive menu. All healthy options, tons of options. We love it here. 
Abba: We went for the first time this past trip and LOVED everything. This is Israeli cuisine, with a great vibe and energy. Make a reservation!! 
Planta: Popular vegan restaurant, you can go for dinner as well but we like it for brunch or lunch. It's beautiful and they have many different options. 
Miami Juice: This is nothing fancy but it's great for a good salad, juice or breakfast. Located in Sunny Isles, it's a staple for many. 
Michael's Genuine: We love having lunch here, it's located in the Design District and it's Kris's favorite lunch spot. 
Dinner
Casa Tua: Authentic Italian cuisine, super romantic, cozy vibe but still a lowkey scene. We love it here. 
Carbone: Just opened in Miami this year and it is so worth fighting for a reservation. It is the hardest reservation to get right now in Miami but the food Is amazing and so is the vibe. We have been to the NYC and Vegas locations and we liked Miami the best.
Makoto: Probably my favorite of all the Miami spots. We sometimes eat here numerous times on a trip. Great for a casual lunch or dinner. Located in Bal Harbor shops, it's the best Japanese ever! You MUST get the Dynamite Baked Crab roll and Spicy Tuna Crispy rice.
Carpaccio: Iconic Miami, I have been going my whole life. Located in Bal Harbor shops, this restaurant is Italian but has so many options. Tons of amazing, fresh salads. Great service, amazing place to sit and people watch. 
Kyu: Very good Modern Asian cuisine, they have cooked foods and sashimi. Located in Wynwood. 
Cecconis: One of our faves. Located inside the Soho House, the restaurant is stunning. We love to come here for breakfast, lunch and dinner. Italian cuisine that is light and incredible. 
Zuma: Some of the best Japanese food you will ever have. We love eating here but don't always remember to visit because it's a little out of the way. We went this past trip and the food and service is always excellent. 
Surf Club: Located in the Four Seasons Surfside, which is the most stunning hotel. This restaurant is cozy and delicious. You must go have drinks before or after in the FS lounge. It feels like you are in Europe. 
Le Petit Maison: In my top 5, this restaurant is so delicious. French- Mediteranian Cuisine that is amazing. There are tons of healthy options, the service is excellent. We love coming here. 
Mandolin Aegean Bistro: Another one of my top 5 in Miami. This restaurant has become very popular. We have been going since it opened years ago, we even hosted our welcome dinner for our wedding here. The food is Greek style, very well priced and easy. A casual lunch or dinner spot. 
Cote: This is a Korean steakhouse, with a beautiful ambience located in the Design District. They cook at your table, it's a fun interactive experience. 
Swan: I don't love the food but this restaurant is worth checking out. It's one of Dave Grutman's restaurants, the ambience is amazing. Very "sceney". 
Chotto Matte: The décor of this restaurant is really cool, very over the top and the food is excellent. This is a fun place to go for dinner and drinks. 
Juice & Coffee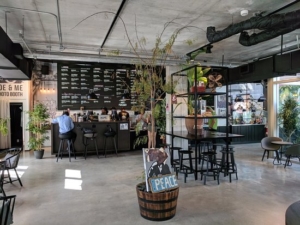 We love stopping by or ordering Joe and the Juice, they have great juices and we also love their sandwiches.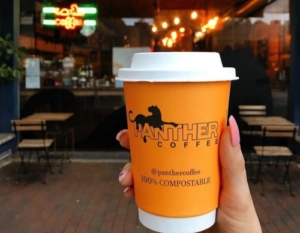 Located in Sunset Harbor they make excellent coffee and matcha.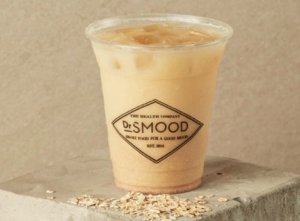 We used to really love it here. We did find it went downhill when we went this time around but maybe it was just an off day. They carry a lot of healthy juices, coffees, teas and snacks. 
HOTELS
Soho House: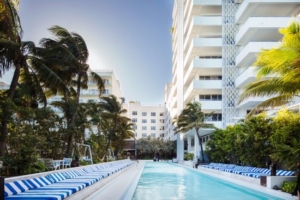 Probably our favorite place to stay in Miami, this is a member only club that also has a hotel. It's a small hotel with a niche clientele. The rooms are almost country style.  We love the pool and the beach!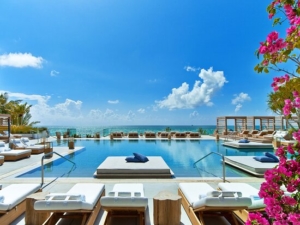 This is a bigger hotel with a beautiful vibe and décor. The rooms are large, clean and there are a lot of amenities. The gym is insane, it's an Anatomy gym, Kris literally wants to stay here just for the gym. We also love the rooftop pool and it's attached to Soul Cycle.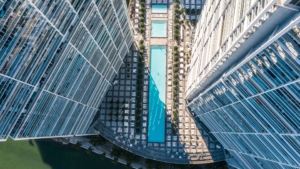 We got married here and our whole wedding party stayed here. We love the W, the rooms are spacious but could use a facelift. The pool is so fun, a great vibe and the art in the common areas are insane. They also have an excellent gift shop.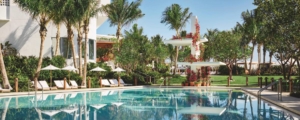 The lobby décor and scent is worth staying here. The lobby is so stunning and filled with plants and smells of Santal. The pool is a little small for my liking but the rooms are nice. The hotel also has a Matador room and MRKT restaurants, both are excellent. They also have a super cool ice skating rink and bowling alley inside.
Faena: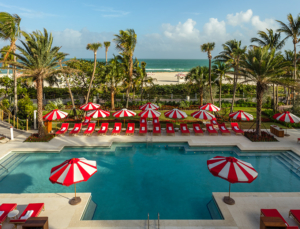 I have only stayed here once and it was definitely an experience. The entire hotel is very Opulent and unique!